OUR COMMUNITY
Holy Names Academy students come from
86 ZIP Codes and 114 middle schools
from the Greater Seattle area.
A RECEPTION FOR BIPOC FAMILIES 
Wednesday, August 23, 2023, HNA Parlors
Thank you so much to everyone who attended the Reception for BIPOC Families on August 23, 2023. It was a pleasure to connect with new and returning HNA families and to hear from the student speakers who shared their experiences at HNA.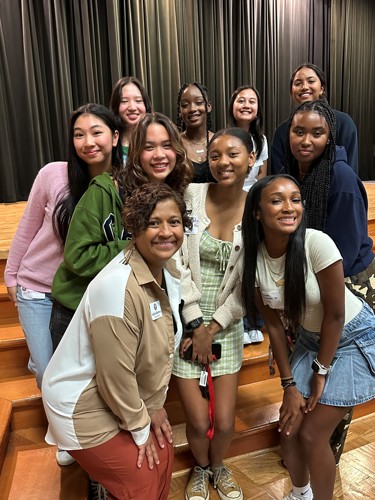 HOLY NAMES ACADEMY'S DEIJ PLAN
Holy Names Academy presents this Diversity, Equity, Inclusion, and Justice Plan in keeping with the mission of the school and the values of the Sisters of the Holy Names of Jesus and Mary. Its purpose is to acknowledge the centrality of these elements in the school's historical roots, current context, and future goals.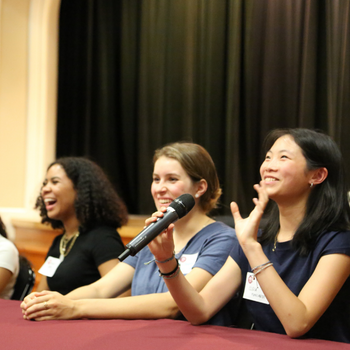 Pictured are the Multicultural Student Union Officers for the 2022-2023 school year. They spoke at the Reception for Families of Students of Color on  August 25, 2022.
Women of Color comprise 40% of our student population.
We are committed to fostering diversity, equity, and inclusion in the curriculum and student experience. Our courses and classrooms are spaces where students learn about diverse voices and perspectives through literature, speaker workshops, assemblies, and field trips.
The student-led Multicultural Student Union (MSU) encourages students of all backgrounds to participate in discussions and activities to learn about cultural experiences, diversity, and ways to promote racial justice. MSU Affinity Groups include includes Black Student Union, Latina Student Union, Middle Eastern Student Union, Multiracial Student Union, and Asian/Pacific Islander Affinity Group.
Faculty & Staff Diversity Committee meets monthly to discuss topics pertaining to diversity and collaborate on best practices.
Special Events & Programming: Reception for Families of Students of Color, Assemblies, Speakers, Peace & Justice Day, Field Trips